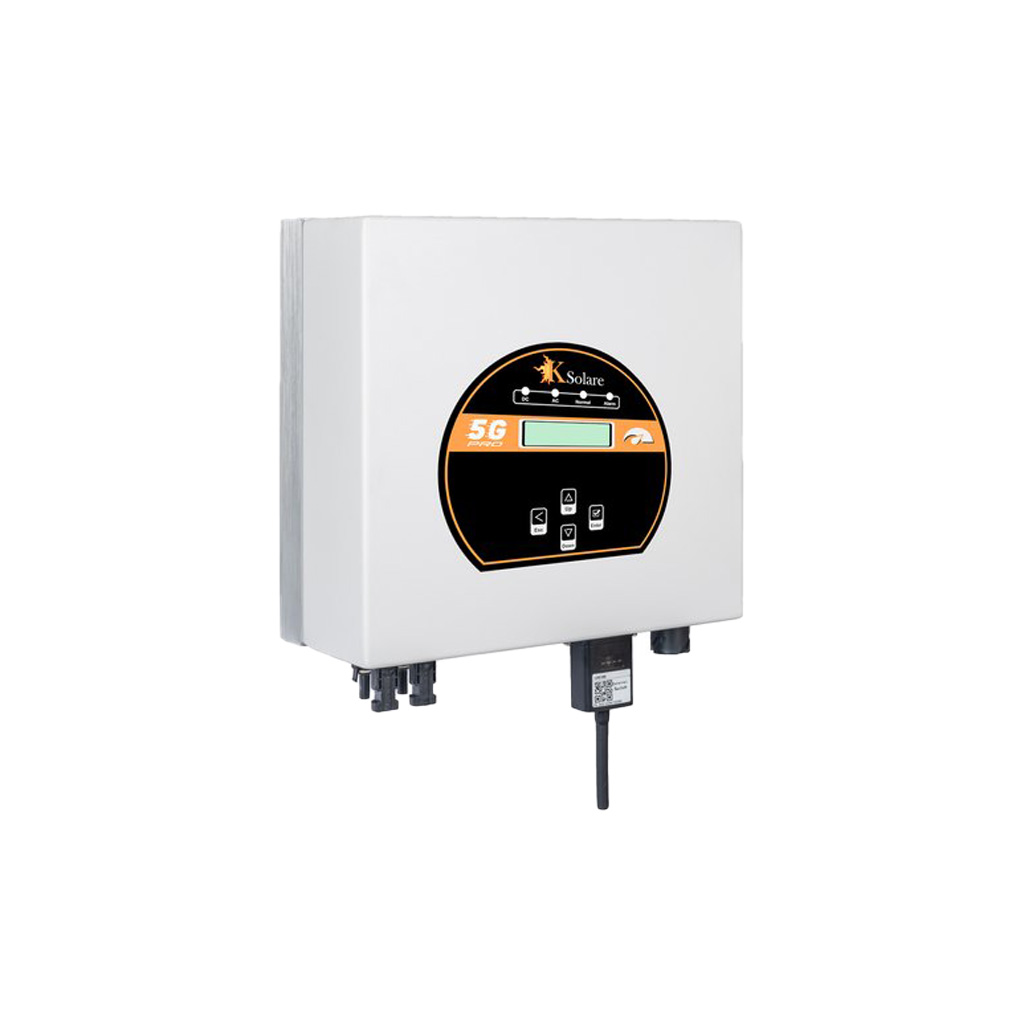 KSolare 5 KW/5.2KW Single Phase On-Grid Inverter
Brand: KSolare | Category: Inverter
₹ 31000
Approx Price Excluding GST @ 12%
Lock the price of this product for only ₹ 1550 and buy it within 30 days on today price.
Product Details
The extremely high conversion efficiency of up to 98.7%.
TEXAS Quad-core Dual DSP based digital processor.
Multi-string technology with an extra-wide MPPT range.
Built-in WiFi / GPRS with real-time PV Monitoring.
Innovative weak-light power generation technology.
User-defined Grid Parameters Controller (V / F / W).
Next-generation strong MPPT used.
Input (DC)
| | |
| --- | --- |
| Max. DC Power (W) | 5500 |
| Max. DC Voltage (Vdc) | 550 |
| MPPT Tracking Voltage | 100-500 |
| Number of MPPT Tracker / Strings Per MPPT | 2 |
| Strings Per MPPT trackers | 2/1 |
| Min. Start-up/Shutdown Voltage(V | 120 / 150 |
Output (AC)
| | |
| --- | --- |
| Nominal Output Power(W) | 5000 |
| Max. Output Power(W) | 5500 |
| Nominal Grid Voltage(V)/Range(V) | 170 - 270 ( Adjustable ) |
| Nominal Grid Freq/Range(Hz) | 47-55 Hz auto-selection |
| Max. Output Current (A) | 23 |
| AC Connection( with PE) | Single Phase |
| THD(%) | <3% |
| Power Factor(%) | >99.95% |
Efficiency
| | |
| --- | --- |
| Max. Efficiency (%) | 98.5 |
| Max. Euro Efficiency (%) | 98.8 |
| Max. MPPT efficiency (%) | 99 |
Standards, Safety & Protections
| | |
| --- | --- |
| Safety | DC Reverse -Polarity & SC Protection, DC/AC side Varistor (Thermally Protected), Grid monitoring & Anti Islanding, Transformer-less Isolation. |
| Protection Class | 1 (According to IEC62103) |
| Over Voltage Category | PVII / Mains II(According to IEC62109-1) |
| Safety Standard | IEC 62109-1&2,IEC 62116 |
| EMC Standard | IEC 61000-6-1/2/3/4 |
| Environment Protection | IEC 60068-2-1/2/14/15 |
| Ingress Protection | IP 65(Accordance to IEC 60529) |
Physical Parameters
| | |
| --- | --- |
| Dimensions (WxHxD) mm | 399x565x172 |
| Weight(kg) | 18 |
General Data
| | |
| --- | --- |
| Operating Temperature | -25 to 60 degree |
| Night Con.(W) / Noise Level | <0.2 / <25dB |
| Heat Dissipation | Natural Convection |
| RH/Max. Altitude | 0% to 98%. No Condensation / <2000 without power derating |
| Display | LED with Mimic Display |
| Communication Interface | RS 485 / WiFi |
| Standard Warranty | 5 Years |